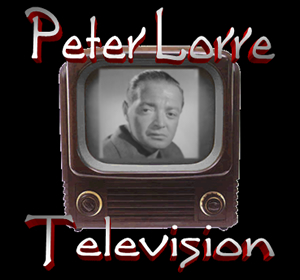 Peter Lorre made many appearances on early television, primarily in dramatic anthologies which were often literary adaptations. He also made guest appearances in sit-coms, westerns and episodic dramas. They were mostly, of course, in the latter part of his career after his return from Germany. This list may not be complete. If you know of any others please
drop us a line
.
1. Taste, Lux Video Theater (Dramatic Anthology) CBS, 03/31/52

2. The Tortured Hand, Suspense (Dramatic Anthology) CBS, 12/16/52

3. The Vanishing Point, The U.S. Steel Hour (Dramatic Anthology) ABC, 12/22/53
Also starring: Claude Dauphin, Viveca Lindfors

4. The Pipe, Schlitz Playhouse of Stars (Dramatic Anthology) CBS, 09/24/54
Also starring: Michael Pate, Lowell Gilmore..... Adapted from a story by L.J. Baeston

5. Casino Royale, Climax (Dramatic Anthology) CBS, 10/21/54 ... LeChiffre
Directed by: William H. Brown..... Also starring: Linda Christian (Valerie Mathis), Barry Nelson (James Bond) Michael Pate (Clarence Leiter). From the book by Ian Fleming

6. Arsenic and Old Lace, Best of Broadway (Anthology) CBS, 01/05/55 ...Dr. Einstein
Also starring: Boris Karloff, Billie Burke, Helen Hayes, Orson Bean, Edward Everett Horton, Patricia Breslin, John Alexander.

7. Reunion in Vienna, Producer's Showcase (Anthology) NBC, 04/04/55
Also starring: Greer Garson, Robert Flemying, Brian Aherne, Lily Darvas
Adapted by David Shaw from the Robert Emmet Sherwood comedy.
Produced by Fred Coe

8. The Sure Cure, Eddie Cantor Comedy Theater (Comedy-Variety) ABC, 05/02/55

9. A Promise to Murder, Climax CBS, 11/17/55
Also starring: Lewis Hayward, Ann Harding..... Writer: Oscar Wilde

10. The Blue Landscape, Rhinegold Theater NBC, 12/10/55

11. Number Five Checked Out, Screen Director's Playhouse (Anthology) NBC 01/18/56
Also starring: Teresa Wright, Ralph Moody, William Talman

12. The Finishers, Studio 57 (Dramatic Anthology), 01/29/56

13. Fifth Wheel, Climax CBS, 02/09/56
Also starring: Hume Cronyn, James Gleason, Arthur Treacher, Benita Granville

14. The Man Who Lost his Head, Climax CBS, 07/26/56
Also starring: Sir Cedric Hardwicke, Debra Padgett, John Erikson..... Writer: Ellis St. Joseph

15. Seidman and Son, Playhouse 90 (Dramatic Anthology) CBS, 10/18/56
Also starring: Farley Granger, Eddie Cantor..... Writer: Elick Moll

16. Operation Cicero, 20th Century Fox Hour (Dramatic Anthology) CBS, 12/26/56
Also starring: Ricardo Montalblan, Maria Riva..... Writer: Ben Feiner Jr.

17. The Last Tycoon, Playhouse 90 CBS, 3/14/57
Also starrring: Jack Palance, Keenan Wynn... From a story by F. Scott Fitzgerald. Screenplay by Don Mankiewicz

18. A Taste for Crime, Climax CBS, 06/20/57
Also starring: Michael Rennie, Marsha Hunt, Beverly Garland
Adapted by Ellis St. Joseph

19. The Jet Propelled Couch, Playhouse 90 CBS, 11/14/57
Also Starring: Donald O'Connor..... Writer: Stanely Roberts

20. The Diplomatic Corpse, Alfred Hitchcock Presents (Suspense Anthology) CBS 12/08/57
Also Starring: George Peppard

21. Thin Ice, Five Fingers (Spy Drama) NBC, 12/19/59
Series Star: David Hedison, Also Guest Starring: Alan Young

22. Man from the South, Alfred Hitchcock Presents CBS, 03/13/60
Also starring: Steve McQueen and Neili Adams

23. The Cruel Day, Playhouse 90 CBS, 02/24/60 Also starring: Van Heflin, Cliff Roberston, Raymond Massey, Charles Bronson..... Writer: Reginald Rose.

24. The Alexander Portlass Story, Wagon Train (Western) NBC, 03/16/60
Series Star: Ward Bond

25. The Incident of the Slavemaster, Rawhide (Western) CBS, 10/11/60
Series Star: Clint Eastwood

26. The Human Touch, Checkmate (Detective Drama) CBS, 01/14/61
Series Stars: Doug McClure, Anthony George..... Also guest starring: June Vincent, Ronald Lons, Ken Lynch

27. The Baron Loved His Wife, Best of the Post ABC, 01/21/60

28. First Test, Mrs. G Goes To College (Situation Comedy) CBS, 10/11/61
Series Stars: Gertrude Berg, Sir Cedric Hardwicke, Skip Ward
Description: Sarah and Joe Caldwell are having difficulty with Science.

29. The Trouble with Crayton, Mrs. G Goes To College CBS, 12/06/61
Also guest starring: Phillip Coolidge, Robert Emhardt... Description: Sarah and Dr. Barber watn Prof. Crayton to take a rest so they hide the result of his physical exam

30. Lizards Leg and Owlets Wing, Route 66 (Adventure) CBS, 10/26/62
Series Stars: Martin Milner, George Maharis... Also guest starring: Boris Karloff, Lon Chaney Jr. ... Description: Three aging movie stars debate over whether the old classic monsters are as scary as the new ones. Tod and Buzz help settle the argument, by letting them scare a secretaries convention.

31. The Peter Lorre-Joanie Summers Episode The Jack Benny Show
(Comedy) CBS, 01/22/63
Description: Jack goes to a doctor to treat his cold, but the doctor is a plastic surgeon. Meanwhile an escaped criminal causes havoc in the studio.

32. Diamond Fever, The Du Pont Show of the Week NBC, 3/24/63

33. 5, Part I, 77 Sunset Strip (first of new format) ABC, 09/20/63
Series star: Efrem Zimbalist Jr.... Also guest starring: Burgess Meredith, Keenan Wynn, Wally Cox, Ed Wynn, Walter Slezak

34. The End of the World Baby, Kraft Suspense Theater NBC, 10/24/63
Also starring: Gig Young, Katherine Crawford, Nina Foch
T 'n' T Web Sites and Episode Guides
You have reached http://www.eviltwin.velvetsofa.com/Lorre/television.htm
These pages are Copyright 1996 to 2006 Teresa and Tracy Murray
(T 'n' T). Page design is entitled "Eviltwin". These pages are completely unofficial in nature. They are not intended to infringe on the rights of any company, studio, author or miscellaneous individual who might hold rights to any image or intellectual property herein. They are certainly not making a profit.
To comment on the content of these pages, please write to:
lorre@eviltwinltd.com