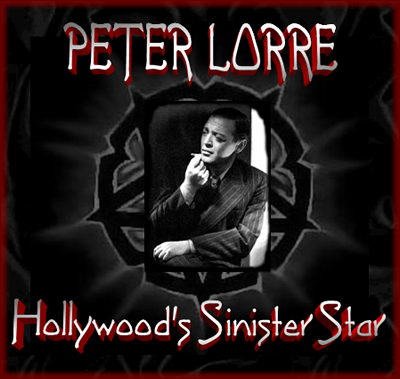 Welcome to my recently revised Peter Lorre pages. I now have a links page and a new photo gallery is in the works in addition to the film page and list of television appearances. They've all been moved from their previous locations on Geocities to the current Velvetsofa.com locations. If you visit the old main page you'll just be directed here. In the future I'll be adding a list of radio credits, lobby card, poster, and memorabilia pages, and whatever else occurs to me. So please come visit again.
I'm not sure how it crept by me, but The Lost One: A Life of Peter Lorre, the long awaited, definitive biography of Peter Lorre by Stephen D. Youngkin (co-author of the indispensible The Films of Peter Lorre) was released last September. I finally received my copy today. It's impressive. The little biography I wrote (below) pales embarassingly in comparison. At 500+ pages it may take a few days to finish it. The book also has an Official Web Site.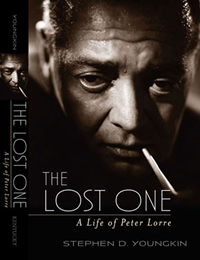 The Lost One:
A Life of Peter Lorre
---
You can find the list of Peter Lorre films showing on U.S. Cable this month listed here at TV-Now.com. Below is my own feature of the month.
This month's featured DVD is Roger Corman's The Raven also starring Vincent Price and Boris Karloff.
Peter Lorre was teamed with two horror greats in this pop gothic spoof. Good guy sorcerer Price is cajoled by friend Lorre (who's been transformed into the title bird) to visit the castle of conjurer emeritus Karloff; Price and Karloff end up in a black magic duel.
USA, 1963, Color, 86 minutes.
---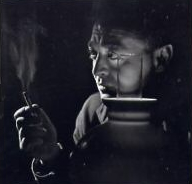 You already know Peter Lorre, or at least are peripherally aware of his existence. His screen personality is a common caricature in our culture. Despite being dead for over forty years, Peter Lorre is still imitated and the characters he created used as a blueprint. (For example we have the cartoon Ren and Stimpy. Let's face it, Ren is Peter Lorre.) Although the memory of his screen presence is indelible, still most people are unaware of the man behind the character and his life story.
| | |
| --- | --- |
| Peter Lorre was born Ladislav Löwenstein on June 26th 1904 in Rozsahhegy, Hungary (in what is now Slovakia) to Alois and Elvira Löwenstein. (Some incorrect biographies give his birthplace as Transylvania, perhaps in view of his unwanted image as a horror movie actor.) Peter's mother died in 1908, and his family moved to Romania and then to Vienna, and during the first world war to a farm in Austria. When that particular part of Austria became a part of Yugoslavia, the family returned to Vienna. Peter had already formulated the goal of acting as a career. | |
Although Lorre tried his hand at being a bank teller, to please his father, he soon gave it up to devote himself completely to acting. It has been erroneously, and perhaps facetiously, reported in a bio elsewhere on the net, that Peter was a psychiatrist. It would have been a good trick since he was 26 years old when he made M and had been in the theater for years before that. However, the rumor could have sprung from the fact that one of his first acting jobs was with a theatre group specializing in psychodrama; the use of acting as a psycho-therapeutic device. It was in this period that Peter changed his name from Ladislav Löwenstein to Peter Lorre.
In 1924, Peter moved to Breslau (now Wroclaw, in Poland) to work in the theater there, and then to Zurich, but by 1925 returned to Vienna. He appeared in local productions there until 1928 when he went to Berlin. He was immediately cast in a play, Pioniere in Ingolstadt as the village idiot and received rave reviews. At this time he met his first wife, Celia Lovsky. He also became seriously ill and had to undergo major surgery. The end result was life long health problems and an addiction to morphine. Peter continued to appear in large roles on the Berlin stage; Happy End, Danton's Tod, Kindertragoide and then in Fruhlings Erwachen [Spring's Awakening]. It was in this play that director Fritz Lang first saw Peter. Lang immediately offered Lorre a role in Lang's first sound film.
| | |
| --- | --- |
| Peter Lorre in M | While waiting for the film to reach the shooting stage, Peter continued to appear in theater productions; Die Unuberwindlichen and Die Quadratur des Kreises. In 1931 Peter made the movie with Fritz Lang. It was M, the story of the search for a child murderer. As the killer, Lorre's performance was chilling, pathetic and convincing. It also brought him international attention and, as usual, great reviews. |
He appeared in several other German films, in parts that ranged from little more than extra work to large supporting roles. Just before Peter began work on his ninth film he was forced to flee Germany. Although under no immediate threat from Hitler's master plan, it would only have been a matter of time, being a) Jewish b) foreign and c) a creative intellectual. In any case all of his co-workers were leaving the country to avoid persecution and the rapidly growing censorship.
| | |
| --- | --- |
| Peter's ninth film was finished in Vienna. He and Celia then moved to Paris, where he made only one film. In 1934 Alfred Hitchcock sought him out to play the role of the terrorist in The Man Who Knew Too Much. Though Peter claimed to have known no English at the time he was cast, he picked it up quickly enough to give a multi-layered and sinister performance in the film. He and Hitchcock were said to have gotten along famously, both having a penchant for practical jokes. During the filming in England, Peter and Celia were finally married. | |
| | |
| --- | --- |
| | Peter was soon offered a contract by Columbia Pictures in America. He accepted it and sailed to the United States. Unfortunately Columbia didn't quite seem to know what to do with him and his first American movie was for MGM, Mad Love, in which he was typecast as an insane killer. In return Columbia, accepted Peter's suggestion that he play the part of Raskolnikov in the film version of Dostoyevsky's Crime and Punishment. The movie was an interesting experiment, but not a popular success. Peter returned briefly to England to appear in another Hitchcock film, Secret Agent. |
| | |
| --- | --- |
| When he returned to America he left Columbia and signed with the relatively new Twentieth-Century-Fox. His first role there, as Colonel Gimpy in Crack-Up, afforded him the opportunity to do comedy as well as drama. His next project was certainly a departure from his previous characters. He was cast as the Japanese detective, Mr. Moto, based on the character in the John P. Marquand novels. The studio had been successful with their other Oriental sleuth films, The Charlie Chan Series, and in good Hollywood tradition, set out to copy the concept. Always beneath the surface of Lorre's Moto was a threatening edge that made the character far more interesting than most of Hollywood's other series detectives. | |
| | |
| --- | --- |
| The Face Behind the Mask | This ability to give subtle shading to his acting was a key to Lorre's success. All his villainous roles have a darkly humorous touch, while his light or comedic performances featured a sinister undertone. The slight twist in his performances gave them a tension that continues to tantalize audiences. Most of Lorre's starring roles were in B features, where he was often teamed with Sydney Greenstreet, although a number of these films were better than typical Hollywood A product. |
For instance Lorre added a judicious amount of pathos to his role as a vengeful, disfigured immigrant in The Face Behind the Mask (1941) turning the film into an eloquent statement about the failure of the American Dream. Throughout the 1940s Lorre added color to films in numerous supporting roles, notably in Warner Brothers films, as Joel Cairo in The Maltese Falcon (1941) and Ugarte, the obsequious black marketeer, in Casablanca (1942).
By the end of the decade, Lorre's face and silken voice had become so recognizable that he was caricatured in Warner Bros. cartoons and on Spike Jones records. He even successfully parodied his "image" in films like Arsenic and Old Lace (1944) and My Favorite Brunette (1947), yet he was never reduced to parodying himself.
| | |
| --- | --- |
| In 1950 he returned to Germany where he co-wrote, directed and starred in Der Verlorene, (The Lost One) a film that incorporated his screen persona into an allegory about postwar Germany's guilt over the crimes of its Nazi past. The film failed in Germany and was not released in the United States. It was a bitter disappointment for Lorre. | Der Verlorene |
| | |
| --- | --- |
| | During the 1950s health problems caused Lorre to take fewer roles, although upon returning to the U.S. he did expand his repertoire with a musical, Silk Stockings (1957) and several comedies. His comedic talent was displayed in a 1960's series of comedy/horror for American International Pictures. His precise timing and droll delivery in The Raven (1963) suggested that Hollywood never fully explored Lorre's range as an actor. |
He was found dead on March 23, 1964, having suffered a fatal stroke at the age of 60.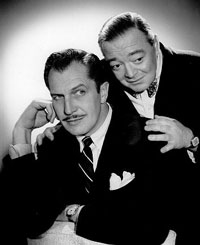 To Vincent Price at Bela Lugosi's funeral: "Do you think we should drive a stake through his heart just in case?"
---
BIBLIOGRAPHY

The Films of Peter Lorre (Citadel Press 1982) by Youngkin, Bigwood and Cabana

The Complete Directory to Prime Time Network and Cable TV Shows (Ballantine Books 1995) by Tim Brooks and Earl Marsh

The Complete Actors Television Credits 1948-1978 (Second Edition Vol. 1: Actors) by James Robert Parish and Vincent Terrace

Television Drama Series Programming: A Comprehensive Chronicle (47-'59 and 59-'75) by Larry James Giankos

Television Comedy Series: An Episode Guide to 153 TV Sitcoms in Syndication by Joel Eisner and David Krinsky
---
You have reached http://www.eviltwin.velvetsofa.com/Lorre/peter.html
To comment on the content of these pages, please write to:
lorre@eviltwinltd.com

Torrance Lasik
These pages are Copyright 1996-2006 Teresa and/or Tracy Murray (T 'n' T). Page design is entitled "Sinister Star". These pages are completely unofficial in nature. They are not intended to infringe on the rights of any company, studio, author or miscellaneous individual who might hold rights to any image or intellectual property herein. They are certainly not making a profit.