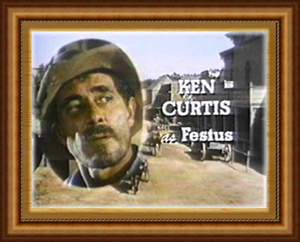 If all you've ever seen of Festus Haggen is the 1966-1974 color episodes usually in syndication, you might think that the onliest thing he's ever done did was Deputyin' for Matthew. As Festus himself says,

that's a dang lie and I can prove it

.
Why, before he started into lawin' Festus was um... well... sort of shiftless or sort of shifty depending on your point of view. After helping Matt Dillon round up his outlaw uncle, Festus took a liking to Dodge City and got to work a lollygaggin' around The Longbranch, the blacksmith's shop and, of course, the Marshal's office. When asked what it is he does for a living in 1964's "Kitty Cornered" Festus replies, "I do just as little as I can and mostly what I please."'
Festus is nothing if not adaptable and after a year or two he overcomes his disdain for the law and earns Matt's complete trust. Although he always takes pride in being a Haggen, gradually his ties to the clan become secondary to his new found family in Dodge City. His first bond is with Quint Asper (Burt Reynolds). He chooses the sometimes taciturn blacksmith as his playmate and teasingly refers to him as "Comanche." It's not until after Quint leaves town that he begins to forge a close relationship with Doc, who becomes his new, albeit very grumpy, best friend. His respect for Matt becomes unswerving loyalty and Festus eventually wears his deputy badge with pride. His initial joking flirtation with Miss Kitty quickly evolves into a brotherly affection.
| | |
| --- | --- |
| | Festus, like the rest of his family, never learned how to read or write. He is, however, universally considered the smartest Haggen. He has common sense, cunning and an intuitive understanding of townfolk, which the other Haggens lack. In fact, as he himself points out, Festus is good at a lot things. Cards, horseshoes, singin', dancin', fishin', huntin', trappin', trackin', drinkin' sweet-talkin', tusslin', cussin' and shootin' all come naturally to him. And to compensate for his illiteracy, he has a vast knowledge of oral folklore and a prodigious memory. He can, for instance, recite every book of the bible. |
Festus always follows his instincts and his heart. Consequently, he makes some mistakes, but he always manages to set things straight. He has a fondness for children, and women as well, but no desire to be married. He also has an affinity for animals, particularly his mule Ruth. Although he seems to
enjoy it when he's got money, Festus doesn't care too much for material things. He is a divergent thinker and seems to have ample time to ponder such profound and far-sighted matters as men living on the moon and X-Rays.

Festus is friendly, optimistic, brave, kind-hearted, generous and loyal. In short, an ideal friend and companion. Although you do have to buy him a beer every once in a while.

Well, was your beer cold enough for you? — Doc
It's kinda hard to tell on just one. — Festus