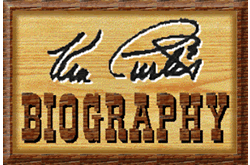 Curtis Wain Gates, who would later adopt the professional name of Ken Curtis, was born on July 2nd 1916 in the small southeastern Colorado town of Lamar.
| | |
| --- | --- |
| Lamar Colorado, unlike Rome, was built in a day… on May 24th 1886. A legal dispute regarding a prospective town site had arisen between the Santa Fe Railroad and a rich local landowner, who owned the property on which the train depot then stood. | |
The landowner had gone to Denver in order to acquire an injunction to be issued on the Monday. On Sunday the railroad men dismantled the old depot, constructed a new one three miles away and declared it to be the new town of Lamar. It was named for the then Secretary of the Interior, Lucius Lamar, in a successful attempt to legitimize the establishment of the town.
Young Curtis was raised in nearby Las Animas, Colorado. "I grew up 100 miles from Dodge City, across the Colorado line from Kansas," said Ken.

His father, Dan Gates, was a homesteader and eventually became the county sheriff. "I was 12 when Dad was elected," Curtis said in 1967 interview. "Our living quarters were on the ground floor and the cells were upstairs. Mother [Nellie Sneed Gates] used to cook the meals for the prisoners and I took them up to the cells while she held a shotgun in her hands in case any of them got frisky."
Purportedly, he also acted as deputy in his father's absence.

Little is now known [by me, at any rate] of Curtis Gates' adolescence: he played saxophone in a high school band and later attended Colorado College in Colorado Springs, studying medicine. However, he found he had more of an aptitude for singing and songwriting. He left college and headed for LA to try his luck in the music business. He became a staff singer for NBC radio.
A TV Land fan who spoke with Ken in the post Gunsmoke years, describes the account which Ken gave of those early days.
"Several years ago Mr. Curtis was in Little Rock signing autographs. A friend of mine and I went to see him. [We] knew he sang with Tommy Dorsey and we started talking with him about that. He hadn't thought about some of our questions in a long time and invited us to sit down with him and talk. Mr. Dorsey's theme song was I'm getting Sentimental Over You. We asked him if there were any words to the song as we had only played the song as an instrumental. He smiled and sang the song for us at the table.

"In our conversation he related how he broke into show business. He left Colorado to be a songwriter in Los Angeles. It didn't take long for him to realize that he was not good enough to break into the music scene in that manner. He then hooked up with a small band and started to sing. One night at a performance in attendance was Cecil B. DeMille's secretary. She liked Mr. Curtis' singing so much that she suggested to her boss that he be hired to sing on the MGM lot for visitors. About this time [Wizard of Oz composer] Harold Arlen had written a new song he wanted to sell to one of the Big Bands. He heard Mr. Curtis sing and paid him a small amount to record his song. Mr. Arlen then sent the record to the main Big Bands of the day hoping they would buy and record his song. When Tommy Dorsey heard the record he didn't like the song but he loved the voice of then Curtis Gates. Frank Sinatra had just left the band, so he called Curtis and sent him the money to take the train to New York. Since Mr. Dorsey did not like the name Curtis Gates he had him change his name to Ken Curtis." – Robert Franks
"I joined Tommy Dorsey at the Paramount Theater in New York as a singer," Ken later stated. "I replaced Frank Sinatra." Exactly what he meant by "replaced" and for how long is a little unclear. (You can find a more in depth investigation into the matter

here

.) Apparently, it was a temporary replacement and he was subsequently lent to the Shep Fields Orchestra. The newly dubbed Ken Curtis' budding Big Band career was cut short when he joined the Army, enlisting in the infantry in 1942. He served in the Pacific and was discharged in 1945.
Ken picked up his singing career again doing guest spots on radio and the stage. One such spot, for which he was reportedly recommended by friend and fellow Tommy Dorsey singer Jo Stafford, was on a radio show hosted by composer Johnny Mercer. [Probably Johnny Mercer's Music Shop.] On the program he performed "Tumbling Tumbleweeds" and attracted the attention of Columbia Pictures. They cast him as their newest singing cowboy.

In 1945 and 1946, Ken made eight "western action musical" films with Columbia, which costarred a popular novelty singing group called the Hoosier Hot Shots. "What we had to sell was a product called stupid," one of the Hot Shots once admitted.
"Stupid", however, was just as big then as it is now and the roughly one hour long B films did rather well. The plots offered little variety. There was always a girl, a ranch (or hotel or radio station), a villain who wanted both, a comic sidekick (often

Guy Kibbee

),

Guinn "Big Boy" Williams

and the helpful Hot Shots.

Singing on the Trail
(1946)

Apparently operating under the theory that cowboy stars could only be counted on to answer to their own names, Ken's character was called Curt in a majority of the films. He later dryly commented on these early roles: "I'd stop in the middle of a gun fight and sing a song."

By 1947 Ken's Columbia contract had ended and the Singing Cowboy era had begun to wane. For the next two years or so Ken worked mainly in radio with programs such as Hollywood Barn Dance and All Star Western Theater.
In 1949 Ken's film career was partially revived when he starred in a few independent low budget westerns, including Riders of the Pony Express. The most significant career move for him that year, however, was joining The Sons of the Pioneers as lead singer. He was a good fit for the long established western singing group "Of course, western is my native music," he said in a 1978 interview. Besides recording, touring and a radio show (The Lucky U Ranch program), The Sons of the Pioneers did soundtrack music for the John Ford films Wagon Master (1949) and Rio Grande (1950).


Ken Curtis and Shug Fisher
Riders of the Pony Express
They also appeared in the latter. Ken's part in the film was somewhat larger than the rest of the Sons and even included a few lines. Apparently he made quite an impression, capturing a role in director John Ford's next major project, The Quiet Man (1952). He also snagged the director's daughter: Ken Curtis and Barbara Ford married in 1952.
In 1953 The Sons of the Pioneers left their record label RCA-Victor because of slow sales and signed with Coral Records. At this point Ken decided to leave the group. The usual explanation given for his decision is that he left to pursue film and television projects. Judging from his credits, this would seem to be inaccurate. He didn't make any films in 1953 or 1954 and did not begin his television career until 1959.

[Perhaps he just went on a really long honeymoon.] When the Sons returned to RCA in 1955, Ken rejoined them, but only for studio work, not touring. He soon left the group entirely.
When Ken Curtis returned to films in 1955 it was as a member of his father-in-law's "stock company." He worked on a dozen Ford films, usually in very minor roles. His largest part was in 1956's The Searchers as Charlie McCorry. This role is sometimes referred to as the progenitor of Festus, because for both parts he employed what he called the "dry-land" accent, remembered from his youth in the dry-lands of Colorado. (If you want to buy The Searchers DVD just click the icon to the right.
"I was to be kind of a Ralph Bellamy," Ken recalled in a 1964 interview, "but I was kidding around on the set, doing the dry-land dialect. I didn't even know Mr. Ford was listening. Then when it came time for me to do my lines, he said, 'How would you say that in dry-land?' I did it for him and he said, 'Play it that way.'"

According to a friend of his, that wasn't necessarily how Curtis would have preferred to do it. "Ken said he never figured out whether Ford made him play it that way because he was mad at him (which he usually was), or just didn't want the character to be as strong as in the book and diminish the Jeffrey Hunter role."

| | |
| --- | --- |
| | 1959 saw Ken's career branch out in a couple of new directions. In an unusual, but astute business move, Curtis formed a production company and made a few very low budget films, including The Killer Shrews (1959) and The Giant Gila Monster (1959). The horror films were made in Texas and intended to be released as a drive-in double feature. The production costs were only a little over $100,000 per film and the box office take was over a million. They are now [quite rightly] considered "camp" classics and were Ken still alive today he'd be raking in |
the really big bucks from VHS and DVD sales. Both films have been featured on Mystery Science Theater 3000, which is definitely not a critical endorsement, but it has garnered them a new generation of viewers.
As an actor Ken is featured only in The Killer Shrews and it is a must see performance. If you haven't already seen it, please do so before reading this review. [Very funny, but it does give away all the plot points.] You can click above or on the movie poster to the right for an Amazon merchandising link.
| | |
| --- | --- |
| Ken Curtis and Ward Bond in Wagon Train | In 1959 Ken also began making appearances on the small screen. His first role was, fittingly enough, on Gunsmoke in the half-hour long episode "The Jayhawkers." He followed that up with another Gunsmoke role and multiple appearances on Have Gun will Travel, more Gunsmoke, Perry Mason and Wagon Train. One of the episodes of Wagon Train on which he guest-starred, "The Colter Craven Story", was directed by John Ford, who very rarely did television, and featured an appearance by John Wayne. |
Ken Curtis' first stint as a TV series regular was, rather surprisingly, not on a western. The show was Ripcord, a half hour syndicated adventure about skydiving heroes, which debuted in September 1961 and had a 76 episode run. The series costarred Larry Pennell and fellow Son of the Pioneers, Shug Fisher. (Both actors would later have recurring roles on The Beverly Hillbillies as Dash Riprock and Shorty Kellems, respectively. Fisher also made numerous guest appearances on Gunsmoke and costarred in The Giant Gila Monster.)
| | |
| --- | --- |
| Ken later spoke exuberantly of the series: "We did some jumping at the start of the show," he said. "We went out without telling anyone—and the studio like to kill us. They were threatened with cancellation of their production insurance. I would have gone into it as a sport, but in this business it's too risky. You break a leg and 150 other people are out of work while production is shut down. It's not like you were an accountant and could still work with your leg in a cast. The scenes in the show were filmed with a crew of really excellent stunt jumpers, but we had the feel of the parachutes, so we could be more realistic in the roles," he said. | |
Ken Curtis made his first appearance as Festus Haggen on Gunsmoke December 8th 1962 in the episode "Us Haggens."

James Arness recently recalled how 'Festus' came to be: "Andy McLaglen, who had directed many of our shows, knew Kenny and had worked with him before [on Have Gun, Will Travel].

"He decided to bring this character in for one show and try it out. And he just seemed to feel right. He [Curtis] had charm," said producer Norman MacDonnell, who already knew of Dennis Weaver's desire to leave his role as Chester.
"Later we had him do another and liked him even better."
Weaver's departure in 1964 was the first major casting change the show had undergone in it's nine year history. "I don't think anybody felt comfortable about it," says James Arness. "Why fool with something that's successful, you know? And we were all wondering what would happen at that point. Just take him out of the show and what happens?"

Ken was waiting in the wings ready to fill the gap left by Weaver. "It worked out great," Arness commented "It was interesting, because he [Ken Curtis] was able to take over for Dennis, but yet he was different enough so that it wasn't like a repetition or something. He actually created his own character."
Audience reaction to Festus was largely positive. "The mail on Festus is either absolutely white or absolutely black," MacDonnell said in a 1964 interview. "Some people say they can't stand him. Others say they like him better than Chester. They either love him or they hate him – but 90 percent say they love him."
Ken was just glad to have the part. "There are so many good actors that are hurtin'," he said at the time. "I'm just grateful. I hope Gunsmoke goes on for another 10 years."
Well, he was pretty darn close. The show, and Festus, would go on for eleven more years.
| | |
| --- | --- |
| The year he signed on to Gunsmoke, Ken and his second wife Barbara were divorced. It was also the year in which he made his last John Ford film and John Ford made his last Western, Cheyenne Autumn. It was, in fact, the only movie Ken made during the 11 year Gunsmoke run, with the exception of the voice-over role for the Disney animated feature Robin Hood (1973). Apparently, the Gunsmoke shooting schedule and personal appearance tours left little time for other projects. It may also have been the case that he was so strongly identified with the role of Festus that finding other work was difficult. If so he didn't find it cause for complaint. "I wouldn't care if they tattoo 'Festus' all over," he said. "He's been good to me." | |
In 1966 Ken remarried. He and his bride, former rodeo secretary [and no, I don't know what a rodeo secretary does] Torrie Connelly, honeymooned at the Thunderbird Resort in Las Vegas. Torrie was later asked to comment on her husband and Festus: "Actually the two are one and the same. The only difference between them is Ken's clean and well educated. He's kind and gentle, and he loves children," she said. "When Ken would study the scripts for the next day's shooting, I could tell when he read his lines—because he'd squint that eye. He didn't even know he was doing it."

Although Festus was used in many episodes (particularly later ones) simply for comic relief, 11-years gave him ample time to imbue the character with depth and nuance. "He was a fine actor," says James Arness. "I watch the old shows now and he gives great performances. He does some very serious shows actually and he was great. He was able to add pretty much all the comedic stuff that Dennis had, but in addition to that they had him doing, as I said, many more serious character things."

Ken's own enthusiasm for Festus and the show never seemed to waver. "I'm really proud ofGunsmoke. We put on a good show every week—one that families could all watch together without offending anyone."
| | |
| --- | --- |
| | In 1975 Gunsmoke ended it's 20 year run. It still holds the record for longest running scripted series on television and reruns are currently being broadcast on at least three cable networks [TV Land, Encore Westerns Channel and Hallmark Channel.] The break wasn't easy for Ken. "I really miss Gunsmoke," he said. "It was like losing my whole family." |
After Gunsmoke wrapped, Ken Curtis continued his association with Festus and took him on the road with "The Dodge City Four." The group played fairs and rodeos across the country from 1974 to 1978. "I'm reading a lot of scripts these days," he said at the time. "With all these deals and commitments it gets complicated. I have commitments to play Festus at all these fairs, so the problem is shaving for parts."
He took on a few roles, mostly guest starring in western themed television series, in the late 70s and early 80's including How the West was Won with James Arness. Pony Express Rider (1976) and Lost (1983) marked his last two appearances in feature films. "I've thought about doing other dramatic roles besides westerns," he admitted, "but I grew up in the West and I know the West."
In 1981 Ken was inducted (as was the rest of the Gunsmoke cast) into The Hall of Great Western Performers of the National Cowboy and Western Heritage Museum (a.k.a. The Cowboy Hall of Fame.) At the museum portraits of the Gunsmoke cast are accompanied by a collection of items from the set of the series, which includes one of Miss Kitty's (Amanda Blake) green dresses, Doc's (Milburn Stone) director's chair and the saddle Festus (Ken Curtis) rode on his mule.

Once Upon a Texas Train
Dub Taylor, Royal Dano, Gene Evans,
Ken Curtis and Willie Nelson

In the 1983-84 television season Ken costarred as ranch hand Hoyt Coryell on the short lived but critically lauded [that means I liked it] series "The Yellow Rose" with Sam Elliott and Cybill Shepherd.

After the series ended Ken more or less retired, doing occasional personal appearances and autograph signings He made only four more television appearances: Airwolf (1986), Once Upon a Texas Train with Willie Nelson (1988), In the Heat of The Night (1990), and Conagher (1991) with Sam Elliott, which was broadcast after Ken's death.
Ken Curtis died in his sleep at his ranch in Clovis California on April 28th 1991 of a heart attack. His ashes were scattered in the Colorado flatlands where he was born.

In February of 1992 the city of Clovis unveiled the Festus Statue created by local artist Sam Hutchings. Until recently it stood in "Old Town" outside the Clovis Big Dry Creek Historical Museum. Inside, the museum features some of Ken Curtis' personal memorabilia as well as local historical items.

The statue has now been moved in front of a local bank, because the museum is currently undergoing construction. The citizens of Clovis take pride in the landmark: "Ken 'Festus' Curtis embodies all the wonderful attributes held by our Clovis citizens and even more," said Clovis historian Ron Sundquist. "He is the symbol of a great hero, so needed by everyone young and old."


Festus, now guarding the
Educational Employees Credit Union
Sam Hutchings sculpted the Festus Statue in 1991. "I feel very blessed to have been able to do the memorial of Ken Curtis. I am a 56 year old grandmother. And art is my life."

"Torrie Curtis, Ken's wife, brought me everything that I needed to make the statue. Such as his boots, holster, hat and such. She gave me several pictures of him and brought me a bust made of him by another artist. Torrie taught me a lot about Ken. We used to sit and just talk about him, her doing it to relieve her grief of losing him. She loved showing me special things of his that he loved.
"I did the statue out of Cement and rebar. I hand molded it from the feet up. It took about 5 months to make. Working in cement is heck on the hands and you have to be pretty patient. It's a lot of fun though, and the reason I ever got started working with cement is it seems so everlasting. I know the statues will last a lot longer than I will.
| | |
| --- | --- |
| "The day I felt it was finished, Torrie and her daughter and granddaughter came out to my house. When they pulled in, her granddaughter said "Look Grandma, there's Grandpa!" When the car stopped Torrie and her daughter were crying. And of course I started crying too, especially when they told me what she said. About two weeks later we had the unveiling. I donated the statue to the City of Clovis." | Sculptor Sam at the unveiling You may contact Sam at sammersss@att.net |