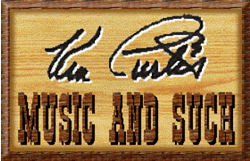 Three CD's
Now available exclusively on
The Ken Curtis Appreciation Site!
| | | |
| --- | --- | --- |
| | | |
These here CD's are sorta unlawsome, but I just want to share, don't you see? However, I can't actual afford to give 'em away. So, I'm askin' $12 a piece fer 'em. If that sounds like a pearl-button-bangle-billy to you, here's the order form. Click on the CD covers above to find out more.
Most people who grew up with Festus' distinctive high pitched twang ringing in their ears (and I can just hear it now), have no idea that Ken Curtis had one of the finest voices ever to grace vinyl and the silver screen.

Ken began his career in Hollywood as a NBC radio staff singer, then went on to become a big band vocalist. His next step up was to singing cowboy in a series of films for Columbia. I don't have any samples from his pre-film career yet, but I do have a few from a couple of the early films, Lone Star Moonlight (1946) and Singing on the Trail (1946).

The films themselves are amazingly silly, largely because of the contemporary post-war western "laugh-happy action musical" scripts and the "novelty" band the Hoosier Hot Shots, who add their "special" brand of music and comedy to all Ken's singing cowboy films. Nonetheless, Ken's singing contributions to the films are sublime and he also wrote the title song for Lone Star Moonlight. Bend an ear to these tunes (and forgive the sound quality, the films weren't in great condition):
| | |
| --- | --- |
| Lone Star Moonlight (Title Song) | Home on the Range |
Curt, Darling, if I ever get mad at you just sing to me — Jean White [Joan Barton, Lone Star Moonlight]
| | |
| --- | --- |
| Singing on the Trail (Title Song) | The Old West is Gone |

Memories of the Lucky U Ranch

Ken Curtis joined the

Sons of the Pioneers

as a lead singer from 1949 to 1952. Now, for the seemingly ever increasing number of people who are saying, "who were they?", the Sons of the Pioneers were and are the foremost western vocal group in history. Ken's big hits with the group included "

Room Full of Roses

" and "Riders in the Sky". The Sons also worked in radio and on film soundtracks, including

Rio Grande

(1950), for director John Ford, who was a big fan.
Festus Haggen, bless his heart, did not put an end to Ken Curtis' singing career. In fact, he loved to sing his ownself (made up songs, in particular) and did so on some rare but welcome occasions in his early

Gunsmoke

days. In the episode "Once a Haggen" (1964) Festus sings quite a bit including

Six Shiney Black Horses

, composed by Ken Curtis.
| | |
| --- | --- |
| Ken Curtis made two albums during his Gunsmoke run: Festus Sings 'n Talks 'Bout Dodge City 'n Stuff and Gunsmoke's Festus Haggen Calls Out Ken Curtis. He performed a few of the songs in his earlier Gunsmoke episodes, including "The Ballad of Hawg Haggen" and "Cornbread and Buttermilk." Ken wrote most of the monologues and songs on the first album. | |
(Some material was contributed by Pat Buttram and Shug Fisher.) The second album included "classics" from his Sons of the Pioneers era, such as "Tumblin' Tumbleweeds" and "Cool Water."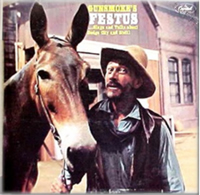 The first album cover for Festus Sings and Talks
'Bout Dodge City and Stuff

Festus tells the story of "Pete and Repeat."
From the LP "Festus Sings 'n Talks 'Bout Dodge City 'n Stuff"
<FESTUS>They was a woman in our town had a set of twin boys named Pete and Repeat. I'll never forget them. They was so much apart you couldn't tell 'em alike. Even their own Ma couldn't tell one from the other. One time old Pete done something bad and she give Repeat a lickin' and Pete never did know the difference. Repeat did though. 'Nother time old Pete was sick and she give repeat the castor oil and old Pete never did know the difference. Repeat did though. Then old Repeat he was a fixin' to get married. You know what old Pete done? He got up early one morning went over to her house. They eloped and he got married to that girl. And the girl never did know the difference. Repeat did though.</FESTUS>
Other selections from Festus Sings 'n Talks 'Bout Dodge City 'n Stuff
Tracks include:
Dodge City
Ballad of Hawg Haggen
Golly Bill
Corn Bread and Buttermilk
My Hometown
Phooey on You Little Darlin'
Youre Nothin but an "It"
Las Vegas, Nevada
| | | | |
| --- | --- | --- | --- |
| | Festus first sang "The Ballad of Hawg Haggen" on the 1964 Gunsmoke episode "Comanches is Soft." The lyrics seem to vary depending on Festus' mood and circumstances. | | "My Hometown" is really more Ken Curtis than it is Festus. And he does some mighty fine singin'. |

This is another album from the Gunsmoke years.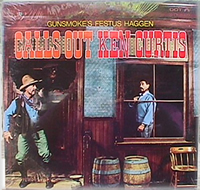 Tracks include:
A Town Called I Love You
Silver Bells
Maybe It's Because
Tumbling Tumbleweeds
One Good Horse, One Good Dog and one Good Woman
Ode to a Mule
Cool Water
The Hawk He's in the Pine Tree
Was It Rain
Hannah Lee
LP ON DOT (COLUMBIA) DLP 25859
Y'all be sure to come back soon, because I'll be adding new stuff. And maybe this ain't a good time to mull on this here, but just remember sharing music and Festus file swapping is sorta unlawsome.